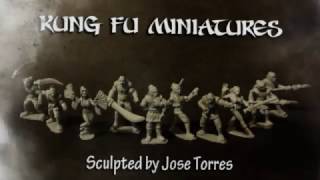 Does it frustrate you when big gaming companies are no longer in it for the hobby?
We'll it does frustrate me to invest lots of time and money building armies only to have big game companies change the rules to push me to buy more over-priced miniatures. That's why I made it my mission to create war games that are made for the love of the hobby and miniatures that can fit into other independent game systems.    
     
    Why is Atomico making gaming miniatures that can used in other systems?     
I believe that if you bought your miniatures with your hard earned money, nobody should be telling you what you can or can't do with them. I encourage you to use miniatures from Atomico Press to complement other indie companies games. Also I'll be giving free printable gaming materials all to help with your gaming experience.
       
        Why sell on kickstarter and not a web store?
          As a very small creative business it is very difficult to maintain stock on hand for a web store. All available materials and resources have to go into the next project. That's not to say that I won't open a web store up later, but just not this year.

k